SHP Training: Become a Strasser Hoofcare Professional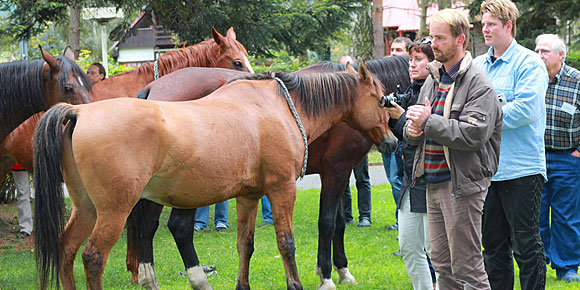 There are now several schools of thought about barefoot study in North America. All have a common goal, to have sound healthy barefoot horses.
We invite you to reflect on the values embodied in the school of the Equine Soundness Association of North America (ESANA). ESANA promotes an awareness and general understanding of holistic and alternative healing methods that complement and enhance restoration of or maintenance towards a horse's continuing soundness.
Our school can offer you:
A holistic approach to equine health care
A distinctive expertise in barefoot lameness prevention and rehabilitative care
A knowledge of hoof anatomy and physiology
The use of a core of equine science
An in-depth knowledge of a trim that is designed to return and maintain optimum function to the hoof to promote balanced wear and weight bearing
A full year of supervised clinical experience using the Strasser method
Most owners come to a Strasser Hoofcare Professional (SHP) because their horses are in pain. Unlike conventional methods of hoof management, barefoot (Strasser) management recognizes physiological features of the whole horse and trims to promote proper functions.
As an ESANA student:
1
You will develop a distinctive competence in hoofcare using the concepts developed by Dr. Strasser. Two years of Strasser hoofcare training, with supervised clinic time, will give you the skill, experience, and confidence needed to practice hoof care professionally.
2
During this time you will learn how to see the balance of the horse, hoof, and husbandry for optimum care. This training is an essential component in your becoming a competent practitioner. It continues throughout the program, laying a foundation for a lifetime of growth and refinement.
3
You will be introduced to a range of complementary and western therapies that supplement and support rehabilitative as well as healthy horse care. You will be given an introduction into a broad range of healing resources that encompasses many health systems, modalities, and practices and their accompanying theories. These complementary therapies include naturopathy, homeopathy, chiropractic and massage, as well as other holistic therapies that are part of the clinical methods and techniques available.
4
Your clinical experience will be extensive—over fifteen hundred hours of class-study, clinical observation and one-on-one supervision from experienced SHPs, as well as practitioners of varied backgrounds and persuasions. In addition to trimming instruction and practice, you will also be introduced to holistic first aid, anatomy/histology, hoof dissection and bone study, clinical cases and lameness evaluation, hoof model construction II, equine nutrition, hoof boots and fitting, tack fitting and riding methods, horse handling and psychology.
5
We believe there is no substitute for supervised clinical experience in preparation for competent and confident hoofcare practice. Our second year of supervision is geared to ease the student into practice in the field so that, as the years go by, it will be easier for ESANA graduates to stay and prosper in their practice.
6
With ESANA, members continue their learning experience after graduation with annual continuing education opportunities and recertification schedules.